The 2018 Ferrari Portofino has launched in Australia today, with a starting price of $398,888 and an expected delivery date of September.
The company is keen to say the Portofino is essentially an all-new car, with a new chassis and thoroughly revised interior and drivetrain over the California T.
It's powered by a heavily revised version of the California T's 3.9-litre turbocharged V8, pumping out 441kW (up 29kW) of power at 7500rpm, and 760Nm (up 5Nm) of torque between 3000 and 5250rpm.
The car is also 80kg lighter and 30 per cent more rigid than its predecessor, thanks largely to a new aluminium structure.
As for the engine, everything from the exhaust header-cast (now one piece) to new designs for the intake, pistons and conrods should help improve power and response. The Portofino will be the first Ferrari to employ electronic exhaust bypass valves, designed to accentuate the V8's engine note.
No doubt to the horror of some enthusiasts, the Portofino will also be the first Ferrari GT car to make use of electronic power steering. While we're talking electronics, power is put to the rear wheels through a third-generation electronic differential.
Stiffer SCM 3 springs have been fitted for a more direct, sportier feeling to the Portofino.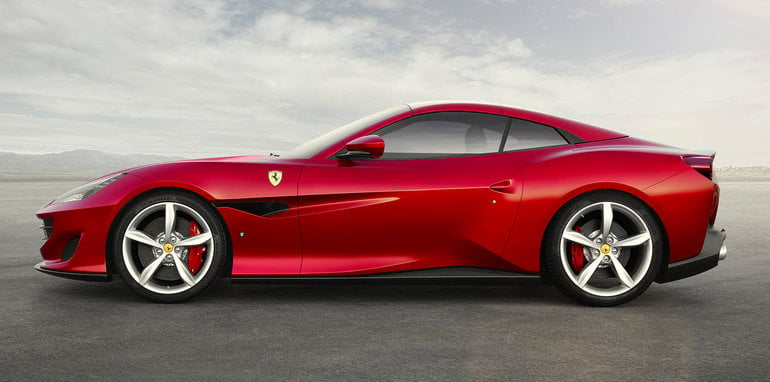 Launch Control helps the Portofino blast to 100km/h in 3.5 seconds, and hit a maximum speed of over 320km/h. By comparison, the Handling Pack equipped California T had a 0-100km/h time of 3.6 seconds and a top speed of 316km/h.
The car remains a hardtop convertible, which Ferrari says actually makes it two car: a fastback coupe and an elegant drop-top. The fresh roof system operates in just 14 seconds, and works up to 40km/h.
Measuring 4586mm long, 1938mm wide and 1318mm tall, the Portofino has a 46/54 front/rear weight distribution.
Jump inside, and the car bears a striking resemblance to the gorgeous interior of the GTC4 Lusso, thanks in large to its 10.2-inch HD touchscreen – which can be augmented by an 8.8-inch passenger display.
There's also 18-way electronic adjustment for the front seats, now made from a magnesium structure and roughly 20 per cent lighter than before. They incorporate six air-cushions for maximum adjustment, naturally.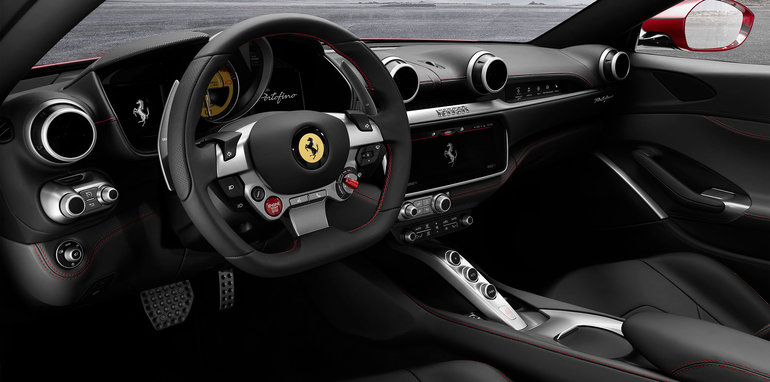 The Portofino will likely become the best-selling Ferrari globally and, much like the California, many of the sales will be new to the brand. According to the Prancing Horse, 70 per cent of California buyers were conquests.
Interestingly, the most common 'other' cars in Ferrari-owner garages were Mercedes-AMG and Mercedes-Benz vehicles, along with Porsche Cayennes and Range Rovers.
Source: caradvice.com.au